40th Anniversary
&

Reunion
REGISTER HERE!
ONE
vision…  40 years…  50 states…  100 countries…  3,200 alumni…  thousands of churches…  and more than 8 million lives touched and changed for time and eternity!
Since 1977 God's hand has been on the ministry of CELEBRANT SINGERS, and we want YOU to be a part of the 40th Anniversary celebration of God's faithfulness! Whether you're just now hearing about CELEBRANTS or you were a Celebrant and lived out of a suitcase for one summer or a decade or more, we invite you to join people from around the world as we remember the past, celebrate the present and look toward the future.
CELEBRANT SINGERS 40th Anniversary & Reunion
Destination: HEAVEN, by way of Visalia, CA
Synchronize Your Watches: August 11-13, 2017
We're planning some really exciting activities including:
Alumni Reunion – pull out those old photos (maybe even a concert outfit or two!) and share a ham and cheese sandwich with your tour-mates!
Special Guests from around the world!
Teaching Workshops with Rehearsal Camp Speakers
CELEBRANT Museum – journey back in time through photos, video and memorabilia collected over 40 years of ministry
Homecoming Concert and Banquet – opportunities to worship together and hear what's ahead for CELEBRANT SINGERS as we enter our 5th decade!
Plan your vacation around it…..Bring your entire family…..Special rates on hotel rooms…..Don't miss this once-in-a-lifetime opportunity! Let us hear from you TODAY!
REUNION SCHEDULE
Thursday, August 10 – Registration begins at 6:00pm.  Enjoy an hors d'oeuvres reception at the Visalia Marriott and start sharing those memories!
Friday, August 11 – Relive one day at Rehearsal Camp!  Beginning at 10am we'll rehearse some old and new charts and just maybe get them ready for the Homecoming Concert Saturday night.  (Orchestra: If you're still playing, bring your instrument!)  Our special guest for morning chapel will be one of our favorite rehearsal camp speakers.  Breakfast is on your own and lunch will be provided.
We'll conclude our "Return to Rehearsal Camp" day with a delicious dinner, a few more priceless memories and a time of worship and sharing.
Saturday, August 12 – Meet up with fellow alumni, enjoy a meal at one of Visalia's many eateries, explore Sequoia National Park OR stop by to watch and/or help with concert setup.  The 40th Anniversary Visalia Homecoming Concert is 7pm at L.J. Williams Theater, 1001 Main Street, Visalia, CA.
*If you're singing / playing in the Homecoming Concert, please be at LJ Williams for rehearsal at 1pm and plan to stay at the theatre until after the concert. Dinner (A&W burgers) will be provided.
Sunday, August 13 – The 40th Anniversary WorldTouch Partners Banquet is the last official event for our reunion.  It will be a magnificent evening of glorifying God for his amazing faithfulness.  The banquet will be at the Visalia Convention Center, 303 E. Acequia, Visalia, CA, beginning at 5:00pm with a mix and mingle time.  Dinner will be served at 6:00pm.  This is included in your registration fee but please contact our office to let us know you'll be attending or to add additional reservations: 800-321-2500.
REUNION DETAILS
Housing
For those attending from out of town, there are several hotels in Visalia that have rooms available. Housing arrangements are on your own.
Visalia Marriott – $109  Book HERE before August 2nd.
Lamp Liter Inn – $59 Call 1-800-662-6692 or (559) 732-4511 to reserve your room.  www.lampliter.net
Meals
Included in your $59 registration fee ($39 for children 5 & up) is Thursday evening's welcome reception, lunch and dinner on Friday, and the WorldTouch Partners Banquet on Sunday.
Transportation
Because our teams are still on the road at reunion time, we can't provide transportation to Visalia from the Fresno or Bakersfield Airports. There is a bus line that runs from the Fresno airport to the Visalia Bus station (V-line). You can find their schedule at ridevline.com.
Keep an eye out for your very own "I'm Going"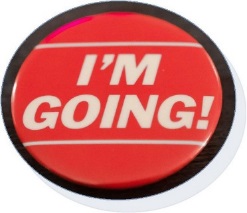 button to share the news that you're joining us in August!  Snap a photo wearing the button and share it on social media, tagging Celebrant Singers.
SPECIAL NOTE: We could really use your help getting the word out! Please share this information with all Celebrant friends and alumni. If you happen to have a list of addresses, phone numbers, emails, etc. please contact Chelsea (Stemkoski) Herman with any information you may have. Thanks…and God bless you! See you at the 40th!
For more information, email chelsea@celebrants.org or call 1-800-321-2500.
40th Anniversary Grand Homecoming Concert
Saturday, August 12, 2017 at 7:00 PM
L.J. Williams Theatre
1001 W. Main St.
Visalia, CA 93291
ALL SEATS FREE
40th Anniversary WorldTouch Partner's Banquet
Sunday, August 13, 2017 at 6:00 PM
Visalia Convention Center
303 E. Acequia
Visalia, CA 93291
Call to purchase tickets today!
(559) 740-4000