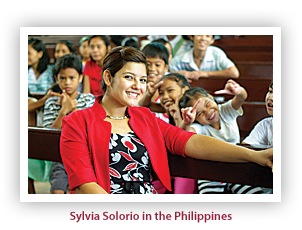 Have you ever imagined what it must have been like to be one of the first disciples… to walk the dusty roads of Galilee… to listen to Jesus teach… to watch Him heal blind eyes… or touch a leper?
Jesus walked the road less-travelled. He was different… He stood out in the crowd. His divine mission led Him to break the molds and stereotypes of His time!
Jesus still walks the road less-travelled, through committed men and women who possess unique vision and commitment to make a difference in the world today… People willing to be moved by a divine mission… to use their gifts to see lives eternally changed by God's love.
Do you:
Have a desire to follow Jesus?
Have a commitment to excellence in your life?
Have a gift as a singer, instrumentalist, technician, sign-language interpreter or bus driver?
Yearn to use your gifts and skills to share the love of Christ with a hurting world?
Then you've come to the right place!
I used to pray, 'Lord, please do not make me a missionary,' thinking only of being sent to some foreign country, forced to endure hardship that I couldn't even imagine. Yet, here I am, returning from a missionary experience that has changed my life completely.
This outreach across the United States and to Colombia has taught me to completely surrender my time, my gifts, my trust, and even my love to God. By surrendering I allow God to use my life to the glory of his Kingdom.
I have seen the power of prayer, I've felt the presence of the Holy Spirit, and I've experienced the love of God throughout this summer. I'm now very thankful I said yes to the call of God on my life to be a missionary!

Kelsey Loehner, Soprano
2011 Summer Team (Colombia)