One thing we excel at in Celebrants is being good stewards of money. Every penny is stretched as far as it can go to best utilize what God has entrusted to us.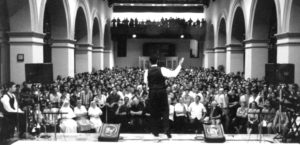 An example of our good stewardship is the sound system. The majority of it is 20 years old(older than some team members), and has been all over the world. We've flown and driven our equipment millions of miles, and they've held up well — repairs/duct tape as needed — but they are showing their age. They don't sound like they used to, and things are breaking down more and more. There are much better things on the market that can raise our concert quality to the next level. It's time for the next generation of sound equipment to take us through the next decade of ministry.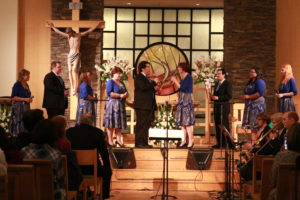 We're trying to raise $15,000 for the first team of all new equipment focused on 3 things: Durability, Audio Quality, and Transportability.
Durability – The equipment needs to last at least 10 years and accrue its own millions of miles
Audio Quality – We aim for a high musical concert quality, and need audio equipment that can keep up.
Transportability – Air travel has considerably changed over the last 20 years, and weight requirements are much more stringent.
We've selected equipment to fit these goals and created a list of prices for the main items. NOW WE NEED YOUR HELP TO GET US THERE!
What can you do?
Donate below, every bit helps!
OR
Pick out a piece of equipment from the list to "buy" for us and write it in the description box. e.g. speaker
Note: you can put in the amount after clicking the paypal Donate button.
---
Donate for New Equipment
| | |
| --- | --- |
| 4 Electro-Voice Speakers | $500 /ea |
| 1 Electro-Voice Subwoofer | $800 |
| 4 Speaker bags | $100 /ea |
| 2 Electro-Voice Vocal Monitors | $329 /ea |
| 8 Audio-Technica Instrument Microphones | $279 /ea |
| Yamaha Digital Soundboard Package | $6000 |
| 6 Chauvet White LED stage lights | $399 /ea |
| 4 Chauvet color LED stage lights | $150 /ea |
| Chauvet Light board | $179 |
---
Nels Herring has worked and traveled with Celebrants for 8 years as a sound technician and assistant director on the bus, and technical guru in the office. He knows firsthand the state of celebrant sound equipment and has shouldered the main responsibility of fixing and keeping everything running. He mixes sound professionally in the community and spends his summers "on the road" with Celebrants.
---
http://celebrants.org/wp-content/uploads/2017/05/soundboard2.jpg
1108
2048
admin
http://www.celebrants.org/wp-content/uploads/2017/03/cs-logo.png
admin
2017-05-29 00:36:09
2017-06-03 22:27:49
We need new equipment!